A Championship Layout To Remember...
The Par 72 Course at Timber Pointe measures over 7000 yards from the tips, but it's certainly a great deal more than that. Sure we can challenge even the best golfers in the Illinois, but what we're know for is a round of golf you're sure to remember. It all starts with great conditions, a friendly staff attitude, and a playable course layout that if fun and challenging for anyone, regardless of age, skill level, and other factors.
A round of golf at Timber Pointe is also one of the most affordable you'll find anywhere around Rockford or Chicagoland. It's well worth the drive...and you'll quickly see why hundreds of golfers make Timber Pointe their home away from home.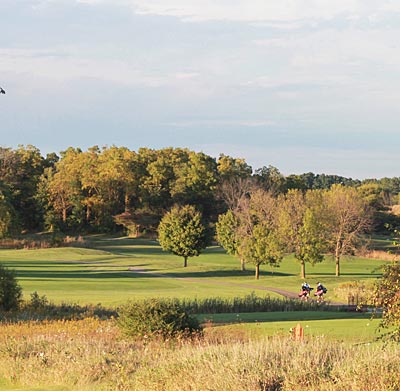 Just some of the features you'll experience include:
Five sets of tees on each hole
4,915 yards all the way back to 7,020+
Spaciously drawn out on 160 acres
Bent grass tees and greens
Low-mow bluegrass fairways
Double-row irrigation system
40 acres of established timber
50 uniquely shaped bunkers
Exciting changes in elevation
Clever mounding in fairways and roughs
Four areas of water including a wildlife pond with cattails
Three desert style waste bunkers similar to those found in the Southwest
A waterway that divides fairways and meanders in front of greens and tees
Country setting with prairie grasses, native grasses, and wildflowers
---
Course Ratings
Gold Tees: 74.2/130 Men
Blue Tees: 72.2/126 Men • 78.1/135 Women
White Tees: 69.5/120 Men • 74.8/128 Women
Silver Tees: 67.1/115 Men • 72.0/122 Women
Red Tees: 64.4/109 Men • 68.6/115 Women
---
Scorecard & Layout

---
Photo Gallery
---
Pro Tips


Hole #1: This starting hole features a large Oak Tree in the fairway on the right side that must be avoided for an easier approach shot to a green setback in the timber.
---
Hole #2: A desert style waste bunker along the right side of the Fairway awaits a tee shot out of the timber, while a small waterway runs in front of a green with sand traps on both sides.
---
Hole #3: This hole is long and straight up through the timber with the fairway slipping from left to right. A person will have to hit three solid & accurate shots to hit this small green in regulation.
---
Hole #4: A links-style golf hole that will require a good tee shot that avoids the sand traps on the left allowing a good look at the green.
---
Hole #5: This hole requires accuracy and distance to a large elevated green surrounded by grassy mounds and swells with a sand trap in front.
---
Hole #6: The downhill approach shot on this hole requires careful club selection so that the ball will carry a large sand trap and small waterway in front of a wide but shallow green.
---
Hole #7: A good tee shot must carry the waste bunker to get the fairway that lies between the edge of the Timber on the right and a large lone oak tree on the left.
---
Hole #8: To hit this large green surrounded by timber, a tee shot must carry numerous sand traps in front of the green, while a hidden sand trap awaits balls hit too far.
---
Hole #9: After a tee shot out of the timber, a waste bunker can be found on the right side of the fairway that leads up to an elevated green surrounded by mounds and sand traps.
---
Hole #10: Even with a good tee shot that avoids the pond on the right, the approach shot will be even more challenging because of the undulated and rolling fairway.
---
Hole #11: Another links-style golf hole with a small green that is so well-guarded with sand traps that it might not be worth it to try to reach this green in two.
---
Hole #12: A solid tee shot will put the ball into the wide open fairway just before the timber that runs along both sides of the fairway, narrowing the approach shot to a very large downhill green.
---
Hole #13: A carefully guided tee shot out of the timber must avoid the sand trap on the left side of the fairway and prairie grasses on the right and around the green.
---
Hole #14: A short hole by yardage standards, but challenging because of the water hazard that surrounds two-thirds of the green.
---
Hole #15: An excellent risk/reward Par 5 because a tee shot that is left of the sand trap in the middle of the fairway and long gives the option of going for the well-guarded green in two. However, this shot is all carry over a large water hazard. A tee shot to the right of the Fairway trap makes it a three-shot hole.
---
Hole #16: This hole plays extra long because the large green is 20 feet above the teeing surface and located above several large grassy depression swales.
---
Hole #17: A shot down to the Fairway from the elevated tees must avoid the waste bunker on the left in order to have a shot at the elevated green set back into the timber.
---
Hole #18: This finishing hole is quite demanding because of timber-lined tee shot that must avoid the waste bunker on the left side of the fairway before the long approach shot to an elevated green can be attempted.